What is ET Starter Pro?
"ET Starter Pro (ETSPRO) is an external third party utility for Wolfenstein: Enemy Territory gamers, originally written for my clan mates at [PND] Funclan, with the goal of making their life a bit easier" said Tintifax_x. To put in simple words, its a tool/software which enables you to switch between different ET versions like 2.55, 2.60b etc. With just one click you can play on 2.55 server or 2.60b server. You dont need different installations of ET for each version. Heres what KILLER has to say about ETSPRO.
original post by
*|EIW.K!LLER|* jul 4,2008
Heres a little guide I made for those who want to use ET Starter Pro for 2.55 and 2.60b.
Hope its helpful!
Here we go!
Step 1: Getting Wolfenstein
Download and Install Wolfenstein, if not already done so.
Link To Download:
Wolf:Enemy Territory for Windows (Mirror 1)
Wolf:Enemy Territory for Windows (Mirror 2)
*If Your Using a Dual Wolfenstein Install, Delete you other 2.60b Install because your not going to need it.*
Step 2:
Getting ET Starter Pro
Download and Install the latest version of ET Starter Pro (which is 0.95) of here:
ET Starter Pro 0.95 (Link 1)
ET Starter Pro 0.95 (Link 2)
When you download it, it will be as a .zip file. Unzip it using WinZip or WinRar. Extract the both the ETStarterPro.msi and Readme.txt to your documents. Once done Unziping, double click on ETStarterPro.msi to install it.
After done installing, leave ETStarterPro alone. If you want, you can delete the two files you unziped.
Step 3:
Getting Wolfenstein Patched
Now that you have 2.55, download and install the 2.60 patch. This patch can be found here:
Wolf ET 2.60 Patch
Step 4:
patching from 2.60 to 2.60b
Download and replace the 2 executables. Both Patches can be found here.
Wolf ET 2.60b Patch
After downloading, install it and your ready to set up ET Starter Pro!
Step 5:
Setting Up ET Starter Pro
To set up ET Starter Pro, Click on ET Starter Pro on your desktop, if not on Start, All Programs, ET Starter Pro.
A small pop-up should come up saying that it will try and determine where your ET.exe is located. If doesn't find it just browse for it. ET.exe will mainly be in (X):\Program Files\Wolfenstein - Enemy Territory (X being your main drive)
After this
A window should come up like this:
To add servers, go to Menu, on the top left, then Tools, then Options. It should of come up with something like this: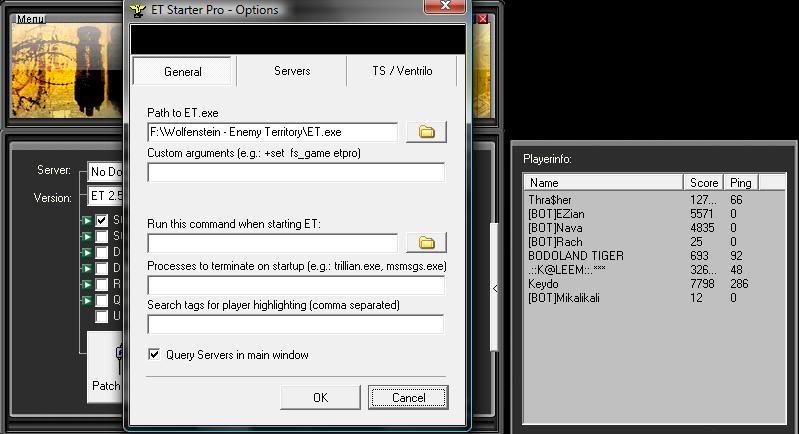 Click on the tab called "Servers"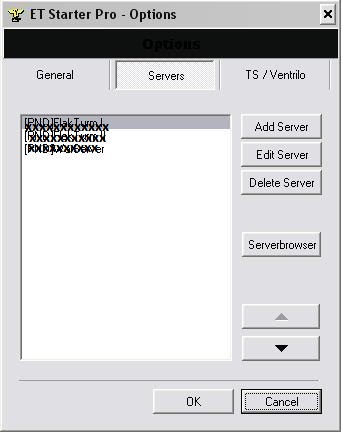 There would be three servers in there. Delete those three servers. Now once your done deleting them, click on Add Server and you should have something like this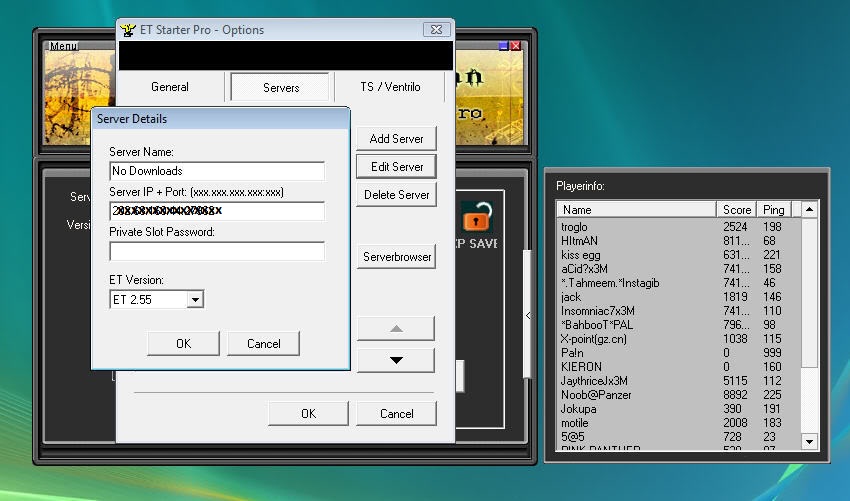 To add our ETpro server, click on Add Server again. In server name type in Server name.Then in IP type in x.x.xx.xx:xxxxx . Now in the ET Version make sure you have ET 2.60b in the box. Once done click on OK.
Now that your done with the Server. MAKE SURE, however you have Delete etkey file unchecked as well as Delete profile.pid file unchecked. You can also have Start ET Minimizer checked. ET Minimizer lets you minimize the game by holding down ALT+Z. Also if you want TS to run automatically, check the box that says Start Teamspeak/Ventrilo.
Credits: K!LLER,Eshan
A tip to use et minimizer:
Instead of using ET starter pro to start et minimizer every time, an easy way will be to make it run at startup of your Windows ie et minimizer will automatically start when u start ur windows. Heres the way to do it: Go to your ET Starter Pro's directory (where it is installed). Then go to Apps folder, you will find the et minimizer there sitting alone. Right click and copy it.Now go to Start >> All Programs>> Startup. Right click on Startup and click Explore. Now Right click and Paste the etmin there. Now whenever you'll boot windows it will make etmin also to start with other programs. In case, theres no startup folder, then make one.



Posts

: 2553


Join date

: 2008-09-01


Location

: France





Similar topics
---
Permissions in this forum:
You
cannot
reply to topics in this forum